Review the uploads that your contributors have added to your project.
Within a project, the Uploads page is where you can see all contributions to the project from all who uploaded to it.
When reviewing the clips, you can create a shortlist of your favourites to send to the Edits page, where you can then make your final piece.
To add footage to your shortlist, click on the plus icon on the bottom right of each upload tile or drag and drop that tile to the shortlist bar located at the bottom of the Uploads page.
You can also add to the shortlist while previewing the upload by clicking the Add to shortlist button on the preview screen. You can drag and drop your clips to rearrange your shortlist into any order you want.
Searching for Tags in your Uploads 🏷️
Tagging your content allows the creation of more metadata (information) around the footage in your Studio. They allow you to start creating collections of themes around your content. For example, some groups you may choose to make could be for types of places (nature, office, off-site etc.), events, teams (e.g. Marketing Team), B-roll content and many more!
To search for tags in your uploads, search for the tag in the search bar, and a collection of the relevant clips will appear.
Add From Library 📖
You can add additional content to your project uploads with the Add from Library feature. This allows you to supplement projects with previously uploaded content or create a new project using only repurposed content.
How?
You can either add existing content from your Uploads page or follow the Add from Library button underneath your Uploader Link.
You will then be taken through to your Studios' Library where you can search through the content using tags, names, titles, captions or content IDs.
When you have found the content you want to use, hover over the media and click the + button in the bottom right of the tile. Once the media has been selected, a green tick will appear; this media has now been added to your chosen project!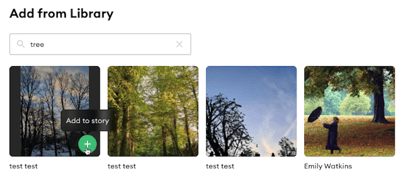 Find out more about the Add From Library feature.
Want to find out how to download and edit your footage? Click here